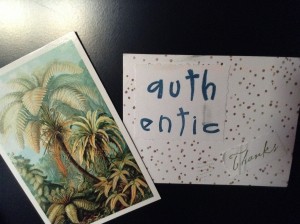 I've been writing about this postcard project and realized there really isn't a post that summarizes it.
This idea was inspired by CLMOOC, Sarah Honeychurch​'s gifting project, this postcard thing, this one, and my love of writing letters. From all this, a group of us decided to a project to send each other handmade postcards.
You can sign up to be a part of it here.
There are no "rules." You can send as many or as few as you like to whoever you like whenever you like. The topics are up to you.
Here's a lovely post that Kevin wrote about this project, and here are a couple of the first sets of postcards I've sent out.
I'm intrigued by the idea of the gift economy and generally the idea of doing nice things because they're nice for you and nice for others. I'm wondering if there's some bigger collaborative project that might spin out of this.
In the meantime, the tiny grain size of this seems just right, and we're getting new folks joining all the time.